What Is Corporate Law? was originally published on uConnect External Content.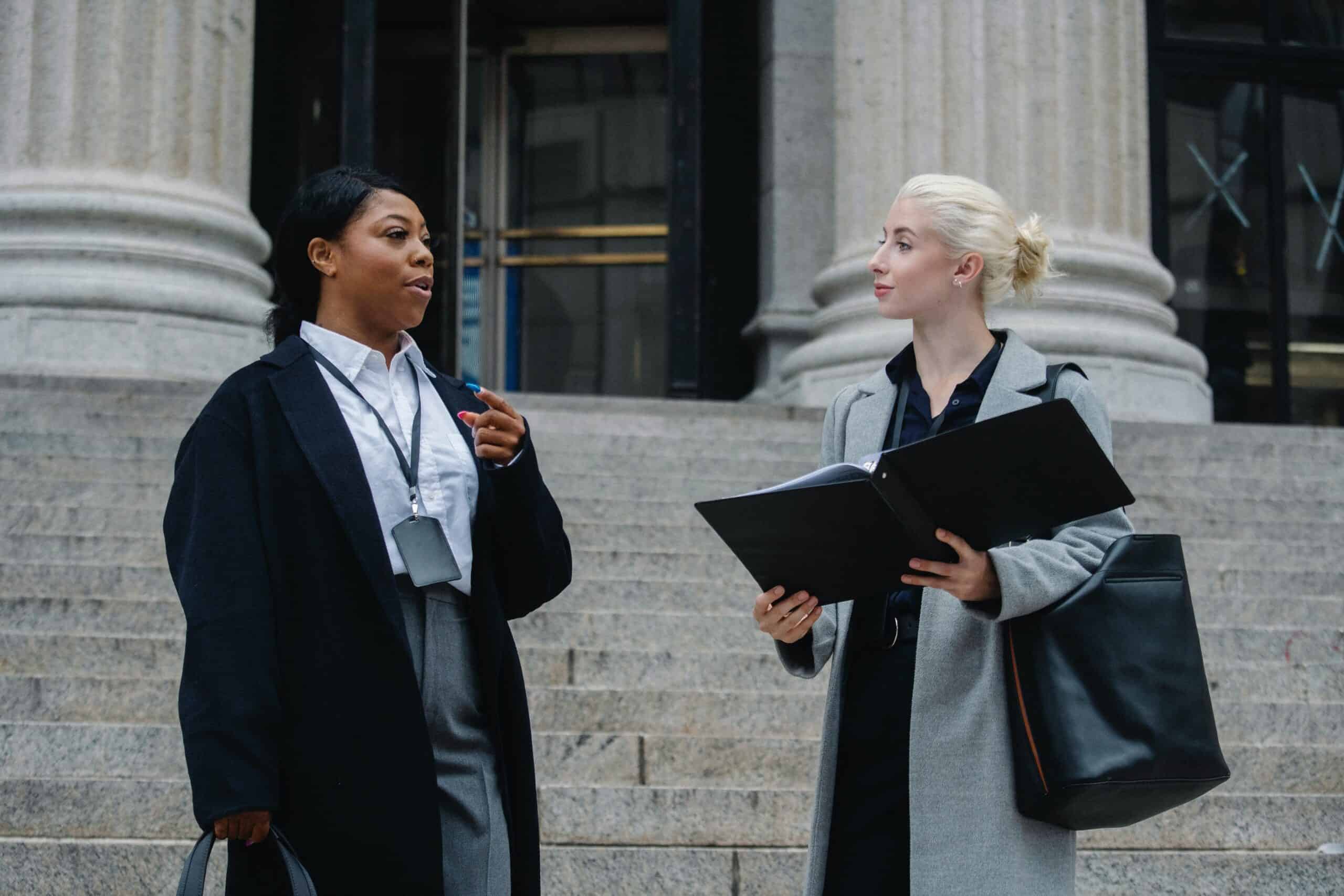 When Facebook bought WhatsApp for $22 billion, corporate law helped facilitate the transaction. With so much money and thousands of employees and users involved, the companies needed corporate lawyers to help with the legality of the process — including research on both companies, contracts, and negotiations — to ensure everyone ended with their fair share.
If you're interested in law and being a part of some of business' biggest deals, corporate law might be the right career path for you. In this guide, we'll cover:
Corporate Law Overview
Corporate law includes the law about companies and their formations, operations, mergers, and acquisitions. For example, when a big company looks to buy a smaller company, two companies want to join together, or an investor tries to put money into a startup, they'll look to corporate law to know how to legally conduct the transaction.
People in corporate law carry out everything needed to complete these transactions, from legal research to reviewing the final deal. 
Entry-level corporate lawyers often conduct legal research and due diligence. Legal research means they research what laws apply to their clients and how those laws might affect the transaction. Due diligence means they look into the corporations at play, specifically things like debts, assets, employment contracts, and compensation agreements. 
More experienced corporate lawyers help draft deals and negotiate for the clients. The most senior lawyers, also known as partners, work directly with clients to advise them about transaction structures and laws.
>>MORE: Pinsent Mason's Introduction to Law
Corporate Law vs. Commercial Law
It's easy to confuse corporate law with commercial law because both types deal with businesses. Corporate law concerns the formation of companies and how they're operated and managed. On the other hand, commercial law is about the sale and distribution of goods.
>>MORE: Learn more about commercial law (and get experience!) with Clifford Chance's Ready, Set, Law Virtual Experience Program.
Types of Corporate Law
Corporate lawyers work for companies in various fields, including health care, technology, retail, energy, insurance, banking, and more. 
"If you work in a boutique business firm, you may have a larger exposure working with a broad range of practice areas," Trustiics CEO Tianpeng Wang, a corporate lawyer with over 20 years of experience, says. "If you work in a large international law firm, you will become more focused."
As a corporate lawyer, you might work in a variety of sectors but focus on a specialty, like:
Mergers & acquisitions: when a company wants to merge with another company, or one company wants to purchase another company
Private equity: working with investors who want to invest in private companies
Venture capital: working with investors who want to raise money for new, upcoming businesses
Corporate governance: overseeing how a company is managed and regulated
Securities: working on securities law to avoid things like fraud and insider trading
>>MORE: Get an inside view of a day in the life of mergers & acquisitions law with Latham & Watkins' Mergers & Acquisitions Virtual Experience Program.
How to Get Into Corporate Law
Education and Certification
You'll need extensive education to become a corporate lawyer, beginning with a bachelor's degree.
"While many law students study political science, if there is an interest in corporate law, having a business background may better prepare [you] for corporate practice," David D. Schein, J.D. and current business law professor at the University of St. Thomas-Houston, says. 
After you've completed your undergraduate degree, you need to apply to law school. Most law schools require you to take the Law School Admission Test (LSAT). The LSAT tests your "reading comprehension, reasoning, and writing." These are skills you'll need to succeed in your first year of law school. Like the ACT and SAT, these tests can help you gain admission to schools if you get a high score.
After the LSAT, you'll apply and go to law school to get a Juris Doctor (J.D.) degree. A J.D. degree is the most common law degree in the U.S., requiring three years of study at a law school. If you're interested in corporate law, you can take specific law school courses in that field and general law courses, like government regulation, bankruptcy, taxation, and mergers and acquisitions.
Finally, you'll need to pass the bar exam in the state you'd like to practice in. The bar exam tests individuals on national and state laws and covers six main topics: contracts and sales, criminal law and procedure, constitutional law, real property, evidence, and torts.
Once you've obtained your law degree and passed the bar exam, you can officially work in law.  
Find your career fit
Discover if this is the right career path for you with a free virtual work experience.
Skills
To succeed in corporate law, you need hard skills — ones learned in law school — and soft skills to interact with clients and in court.
"Contract drafting, corporate governance procedures, and a deep knowledge of the Delaware corporations law are the real starting points," Christopher Ray, partner at Ray-at-Law PLLC and Forage program consultant, says. 
Wang agrees, citing that strong research, writing, and communication skills are essential to a successful corporate law career. Of course, these are skills you'll learn in law school, but also ones you can learn quickly on the job. "It's important to grab any opportunity to write the first draft of a memo for a client, to participate in a legal due diligence, to write a document, or to make notes in a client meeting," he says. 
Corporate law also requires a "strong business sense," Wang says.
"The more important skills are harder to define," Ray says. "It's important to be able to quickly understand how a business actually works — how it makes money, what its goals and growth strategy look like, and what its risk tolerances are."
Ray says it's crucial to "talk the talk" and understand the corporate jargon of these businesses, too.
"If you want to do corporate work for software companies, learn their terminology — what is SaaS? How does e-commerce actually work? Why are Google ranking and SEO such a huge part of the marketing budget? If you want to work for pharmaceuticals or biotechnology, how come all they talk about is molecules instead of products?
It isn't enough to know how to write a good contract, you have to know how to write a good contract for this client. You can't negotiate on behalf of your client if you don't understand what makes their business tick."
Why Corporate Law? Pros and Cons
Corporate law deals with the big players of the corporate world. So if you're interested in international opportunities and chances to go to bat for some of the most popular businesses, corporate law might be right for you.
"Corporate practice gets you very close to the business world," Wang says. "Sometimes, especially after you become a partner, the line between being a legal advisor and a business advisor becomes blurry because you will have some good clients who trust you so much that they will discuss with you about many things beyond legal."
However, while you get to work on these large transactions, you might not feel like you're making an impact until later in your career.
"As a young corporate lawyer, it's hard to feel you have direct bonding with clients," Wang says. "At the beginning years of practice, you might have a feeling that your work is meaningless and you might even doubt whether you are a lawyer, because you might play a minor (but very busy) role in large transactions."
The corporate law career path can be incredibly lucrative. This is true when you're entry-level and not working directly with clients. According to PayScale, the average salary for a corporate lawyer with less than one year of experience is $96,472. Those with 1-4 years of experience have an average salary of $103,027.
This high salary does come with long hours. Those working in corporate law can expect to work long days, weekends, and even holidays to meet client demands.
"You have to be able to build your day around others, because you're often in a liaison role with decision-makers at your clients," Ray says. "If the CEO only has free time at dinner, or if the VP of a department you're doing work for works a 7-4 instead of a 9-6, you work around them."
Corporate Law: The Bottom Line
Corporate law is a type of law that oversees business management, operation, and formation. If you choose this career path, you can impact the big players of the business world in various industries and specializations. 
"A good corporate lawyer sees both the forest and the trees, and understands how they connect together," Ray says. "I chose corporate law because I view a business as a complete system, not as a series of meaningfully distinct parts." 
Ready to learn the skills you need for a career in corporate law? Check out MinterEllison's Capital Markets & Corporate Law Virtual Experience Program.
Image credit: Sora Shimazaki / Pexels
The post What Is Corporate Law? appeared first on Forage.